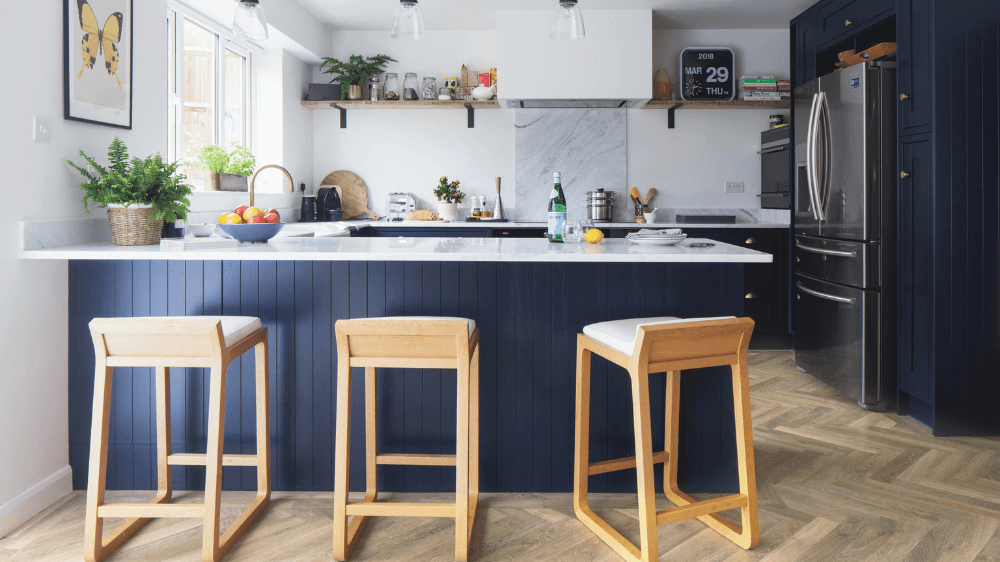 Karndean: using TV to drive brand awareness and consideration
Karndean turned to us as a new to TV advertiser, keen to lean on our expertise in delivering strategic, effective campaigns. Read more on…
Since their inception in 1973, Karndean Designflooring have established themselves as one of the most innovative and well-respected flooring solutions in the world. They turned to Brazil Street to build brand awareness and consideration.
In the lead up to the Autumn of 2021, we worked with the marketing team to develop a media strategy. This framework clearly identified media channels needed to hit the objectives, and how they would work together.
Our media selection focused on media channels that would most efficiently and effectively allow us to deliver brand awareness and consideration.
Read on, to find out more…
THE CHALLENGE.
Karndean operate in a market where having clear brand difference is challenging. In addition to this, consumers are largely brand agnostic.
Like competitor brands, Karndean flooring is highly aspirational, best seen to be believed.
The objectives of our campaign were clear. We needed to drive a marked increase in brand awareness, as well as increased consideration of Karndean products.
Competitors were highly active, but often using an approach that was lacking in boldness and clear messaging. With the pandemic driving a huge appetite in the sector, and lack of brand favour from consumers, there was a real opportunity to create stand out and cut through.
TV was the central focus for our media investment, with the delivery of other channels to support this. Using TV would allow us to create awareness and drive consideration, at scale.
So, we set to work.
THE SOLUTION.
With a highly relevant audience and a plethora of pertinent programming, 4Sales was a natural partner for the campaign.
As a newcomer to TV, it was vital that we tried to squeeze as much value from their budget as we could. We utilised 4Sales' matched funding incentive The Greenhouse Fund to double the client's budgets, and the scale of the campaign.
Even with this incentive, it was important that we implemented specific flighting to establish momentum and give the campaign longevity.
We used a blend of linear and VOD across Channel 4, HGTV, All4 and More4. By delivering a linear pulsed approach we remained on air for longer, whilst still being meaningful every time we went live.
All4 ran for the whole campaign period. This foundation of the campaign gave us an always on presence and access to incremental multi-channel audiences.
THE RESULTS.
In order to maintain unbiased understanding of performance, brand awareness and consideration were measured by a third party.
This also ensured that we could isolate the impact of the TV activity specifically.
The campaign has substantial impact, with recognition of Karndean's 8% higher than the expected nascent norm.
With our primary objectives of awareness and consideration, it was important that we could demonstrate how the campaign had delivered against these metrics.
69% of ABC1 adults and 87% of in-market audiences had an improved perception of the brand after seeing the ad. This was 19% higher than the nascent brand norm.
69% of ABC1 adults and 87% of in-market audiences said it made them more likely to consider Karndean, versus the nascent brand norm of 68%.
Karndean also found the campaign to drive new audiences to their website. In the first week of the campaign going live, Karndean saw an uplift in web traffic. Web visits were up for the period the campaign was live. Goal conversions for finding a retailer and requesting a sample were also up.
New creative direction from The Behaviours Agency hit the mark too. 81% of those in-market saying the Karndean ad stood out from competitors.
UK Marketing Director, Gavin Smith said:
"Ensuring the optimal investment and placement is key for any campaign, but this being our first ever use of TV made those decisions even more important. From our initial meeting Brazil Street impressed us with their diligent approach to understanding our market, audience and products. They then used these insights to develop a well-structured, coherent plan that gave us the biggest impact for the budget available. The results achieved were beyond our wildest dreams and I'd have no hesitation recommending Brazil Street to any brand that is new to TV."
If you'd like to explore how TV can work for you, get in touch.