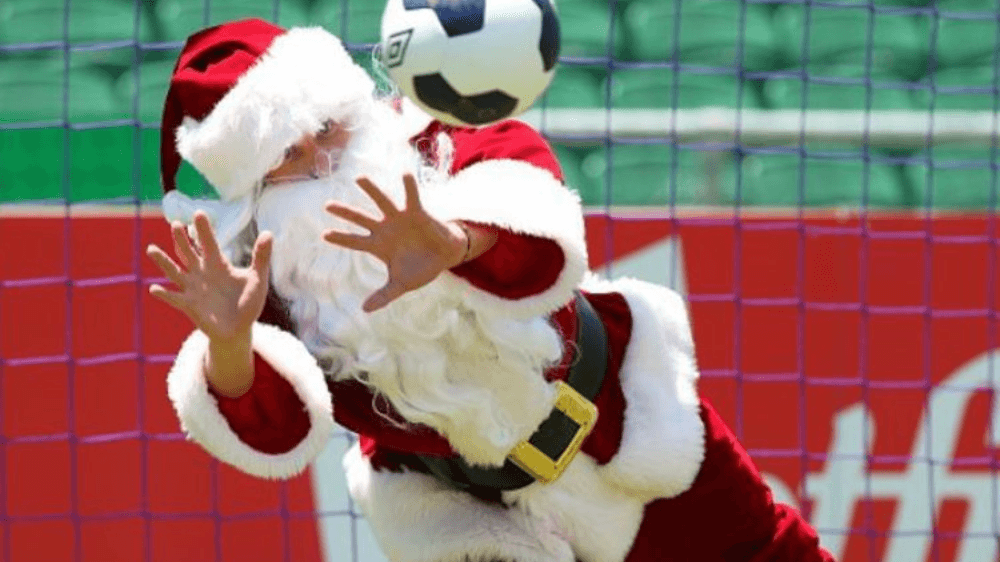 GETTING AHEAD OF THE BEAUTIFUL GAME
Q4 is always set to be a hectic time, especially in the TV world. Not only do we have a lot of prime shows launching, Black Friday, and of course not to mention the big C word… But add in the small matter of quite a popular Football Tournament taking place, it means there is oodles to contend with.
So, when two worlds collide, we thought it was important to understand the impact of what this means for Advertisers. Through understanding the key headlines, challenges & exploring clever ways to help navigate this, there's no time like the present to get ahead of the beautiful game!
A NATION WITH TWO PASSIONS.
Q4 sees dark winter nights roll in as well as lots of 'appointment to view' shows including Bake Off, I'm a Celebrity etc. This on top of the much anticipated Christmas ads (mentioning no names) drive TV viewership. Additionally, we know gifting intent starts 45 days prior. Peaking twice during Black Friday & the week before Christmas, so it's an ideal time to speak to a primed audience.
As a nation of Football fans, we see big numbers hit the TV screen when large competitions come to the party:
17.4m

Watched England Ladies lift the trophy

30.9m

Tuned in for the Euros 2020 Final

44.5m

Viewers of 2018 World Cup, 10.4m final
A NUMBER OF CHALLENGES.
DISRUPTION TO MEDIA HABITS.

The change we saw in people's media habits through COVID

have upheld. TV was a real winner at first, but is now met with a host of challenges. Traditional channels saw an uprising (from older audiences) & Digital / Social grew even stronger for youngsters. Channels such as OOH & Cinema are coming back with vengeance.
BROADCAST STILL UNDER FIRE. Inflation in TV is an ongoing issue, with the efficiency of delivering cost efficient reach becoming increasingly difficult. Layered on top of declining reach & delivery continuing to be a tight squeeze for many. Implication here is to open up to wider channel mixes, day parts & using larger channels.
BEWARE OF SMOKE & MIRRORS. Some media owners may be trying to counteract the pricing difficulties by offering 'incentive discounts'. However when you consider spots can range hugely across Sales Houses, it doesn't become a huge help on the higher end.
THE TIME IS NOW. With Advertisers already making changes & accounting for this busy time – it's essential we are booking as far in advance as possible. Availability issues in other channels will start to get pushed too & it's unlikely incentives that are offered at other points in the year are upheld (eg. 'Run of site' rates).
SO WHAT.
We need to get ahead now, which Campaign agree with us on too (read their interesting viewpoint here). There's an abundance of additional solutions & opportunities to help navigate around this difficult time for some. Both staying within the AV space and exploring beyond. Some examples include:
VoD | Sky are offering an escapism package for those wanting to avoid the Football mania, accessing their popular drama content.
Sky AdSmart | Offering hyper targeted & personalised solutions through numerous targeting layers.
Sponsorship | A popular and busy time to snap up some amazing properties. Finding the optimum one, for the desired price tag is the key challenge.
Outdoor | Targeting a mass, localised audience whilst building your brand in a busy time when keen shoppers are looking to be inspired.
Audio | Why not align your brand with the soundtrack to the most wonderful time of the year. Lots of opportunities within the audio space that goes beyond the spot.
Cinema | With some lovely releases on the horizon and the period between Christmas & New Year very popular in the cinema, lots of ways to access this channel.
For the full insight piece & to get ahead of the Beautiful Game, please get in touch.